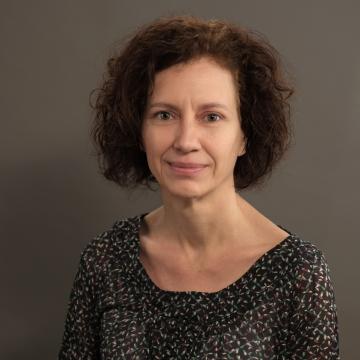 Department of Slovene Studies
Assoc. Prof. Darja Pavlič
Darja Pavlič graduated from the Faculty of Arts in Ljubljana in 1991 with a degree in comparative literature and literary theory and the sociology of culture. In the winter semester 1991/92 she went to study in Innsbruck. She received her Master's Degree in Comparative Literature in 1996 at the Faculty of Arts in Ljubljana, where she also received her PhD in literary sciences in 2003.
During her studies, she began writing literary reviews for various journals. She worked at Radio Student, where she was a culture editor for one year. She has been a member of the editorial board of Literature magazine and various literary awards committees. In the years 2003–15 she was the editor-in-chief of the scientific journal  Primerjalna književnost (Comparative Literature), and since 2016 she has been a member of the editorial board of this journal. As an author and leader of the author group, she has been involved in the creation of textbooks for literature in high schools and four-year vocational schools of the Mladinska knjiga publishing house.
In 2003, the Zora Collection published her monograph entitled Functions of the Imagery in Poetry by K. Kovič, D. Zajc and G. Strniša. She has published scientific papers in the journals Primerjalna književnost, Slavistična revija, Slovene Studies, Forum for World Literature Studies, Studia Historica Slovenica, Literatura and in monographs of various editors. She has participated with papers at international conferences in Vilenica, Moscow, Petersburg, Florence, Ljubljana, Maribor, Škocjan. She has co-organized or chaired scientific conferences in Ljubljana and Škocjan. In 2003-2008 she was included in a program group led by dr. Darko Dolinar (ZRC SAZU), and since 2009 has been a member of a program group led by dr. Marko Juvan (ZRC SAZU). She has managed two bilateral projects with the US.
At the Faculty of Education in Maribor, and after the establishment of a new faculty at the Faculty of Arts in Maribor, she was employed from 2000 to 2017 as an assistant, then an assistant professor and finally as an associate professor of comparative literature. Since October 1, 2017 she has been working as an Assistant Professor of Slovene Literature at the Department of Slovene Studies at the Faculty of Arts in Ljubljana, where she teaches contemporary Slovenian poetry and short fiction.
Compulsory Courses
Elective Courses